Here are 9 sites that you should consider using if you want to download free sound effects for your video productions.
Sound Effects are essential when you wish to enrich audio-visual projects like Videos, Apps, Films, Games, etc. make sure to double-check usage terms for commercial use.
Freesound https://freesound.org/
One of the main advantages that come from using Freesound is that they have a huge collection of songs and you get to enjoy some cool music here without a problem. There are tons of side effects even some old ones, so in the end you will be quite impressed with the way everything works. Just check it out and you will totally appreciate the great content here.
99 Sounds http://99sounds.org/free-sound-effects/
While the number of free sound effects is rather limited here, you need to play with what you can get more often than not. But we did find that the content here is very diverse and you will enjoy and also appreciate it quite a bit. The distinctive sounds and the very good quality of it all really pushes this website to the next level. It's as exciting as it will ever be and at the same time you will not have to worry about a license either. You should try it out just to see whether it will suit your requirements or not. But it should totally be worth it.
Looking for some free Whoosh sounds? we got you covered with our free pack of 25 sounds for your video editing. You can use it for any commercial project safely. No attribution required.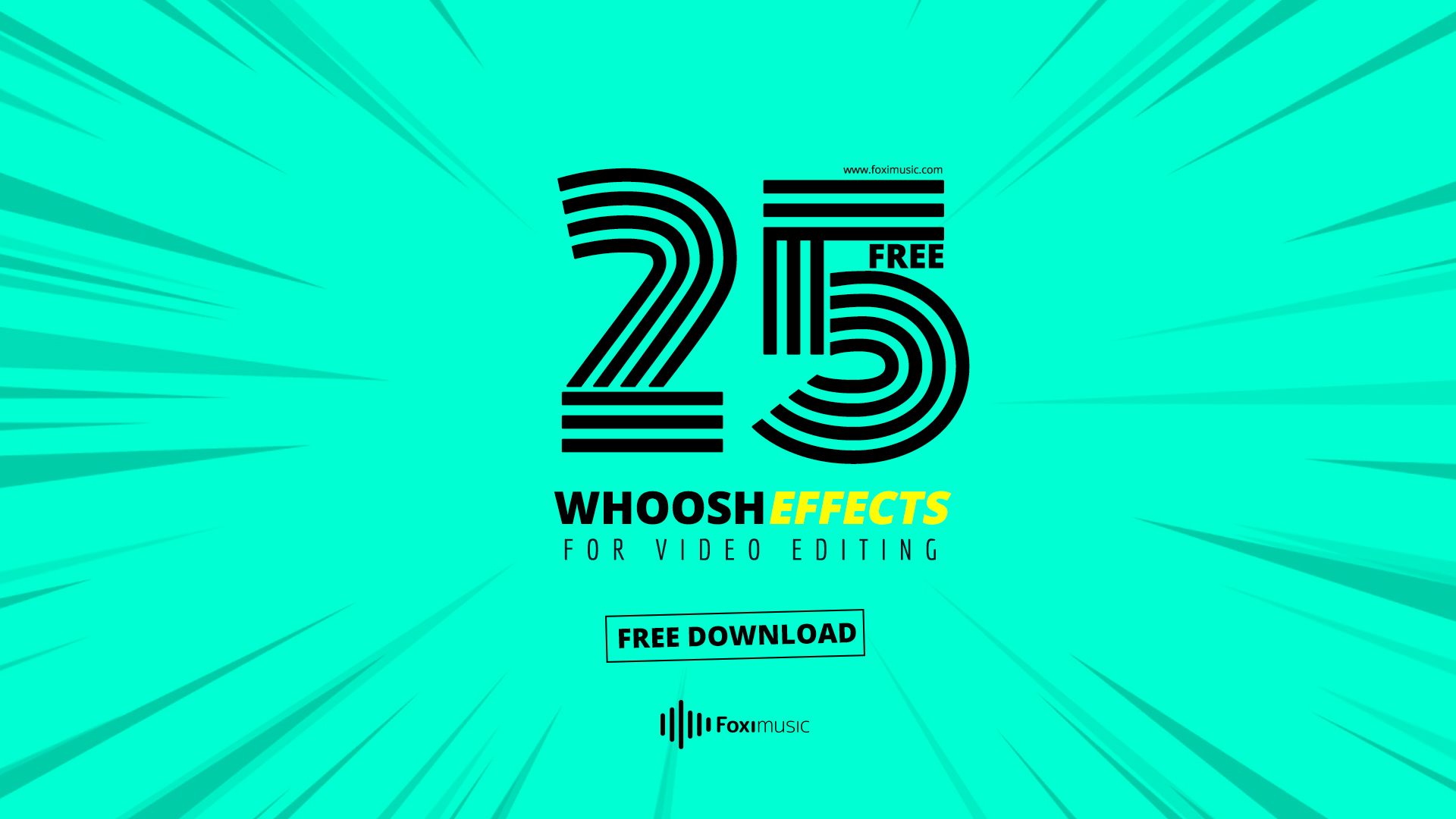 Music For Videos https://music-for-video.com/blog/free-sound-effects-for-videomakers
The cool thing here is that you have multiple categories and everything is added as promised here. It works great, the adaptability is amazing and the features as a whole are very interesting and exciting. People that are very passionate about video creation and content will enjoy this a lot and that's definitely something that you need to consider quite a bit for the most part. If you really enjoy creating videos and want some free music to go with that, then it does make sense to check out this site.
OpSound http://opsound.org/index.php
Thanks to OpSound you can easily find some good music that you can enjoy all the same. The trick with OpSound is that the more you think about this, the better the outcome will be and you will enjoy the great quality content for the most part. The fact that you can't really use a search system limits you a bit, but on the other hand they do have tags and genres so you can still find the music you want without major hassle. The collection is diverse for what it is and you will enjoy it.
Pac DV https://www.pacdv.com/sounds/
Pac DV has been a part of the industry since 2001 and their collection of free sound effects continues to be one of the best on the market. It's nice to see that everything adds up together to create some resounding results and the experience on its own can be downright unique. The categories are full of content and you will appreciate the fact that you have so much to work with. They do have links to other free sound effect sites too.
Partners in Rhyme https://www.partnersinrhyme.com/pir/PIRsfx.shtml
If you always wanted to acquire free sound effects from a huge collection, this will be it. There are some paid things here and there, but at the same time the sheer fact that you have so much free stuff here is staggering. It really shows the great value and dedication you can acquire from this, and you will not have to worry about any problems with licenses either. If you really want great music for your project, this will totally work and you will enjoy it all the same.
Soundcloud https://soundcloud.com
Soundcloud has shown time and time again that it delivers outstanding music you can use as many times as you want. It's coming with a comprehensive database and you will be quite amazed with how creative and impressive it really is, and you will not have to worry about anything here. Licenses are shown on the page and you can talk directly to the music creator. It's definitely one of the best ways to acquire great sound effects here.
Noise for fun https://www.noiseforfun.com
NoiseForFun.com is a freeware project created in 2011 by sound designer and composer Filippo Vicarelli. It offers wide selection of thousands of fresh and exciting sounds added on a daily basis.
Sound Bible http://soundbible.com
They call it the sound bible for a reason. This website has a ton of amazing music, 200+ pages of free sound effects that you can use and reuse at your own pace. And the great thing is that you can see the license right near the play button, so you know exactly what you are getting into. They are also adding new sounds 3 times per week, so there's always new stuff to enjoy!