Can I use royalty-free music on YouTube and keep my monetization revenue?
Royalty-free music? Monetization? Content IDs? Has the world gone mad?! I just need some background music for my video… Why is it so complicated?
This guide explains how to use royalty free music in your marketing videos. It will help you understand which music licenses allow you to monetize and gain the most. By the end of this guide, you will know how to find the right music terms for your marketing video, your business and your brand. Once you have the basics, there's no going back, so let's get started.
You might be a freelancer, a big brand or small, it doesn't really matter to Google or YouTube, they just want to make money and lots of it. How do they make money? From ad revenue! Advertisers pay Google and YouTube to publish their ads on YouTube videos with high traffic and a lot of views. The cool part is Google and YouTube pays the owner of the video a percentage of the revenue which is called "monetization". Anyone with an audience and original video content can monetize their videos and earn money. Visit our recent post about YouTube content ID to get some more details on how content monetization actually works.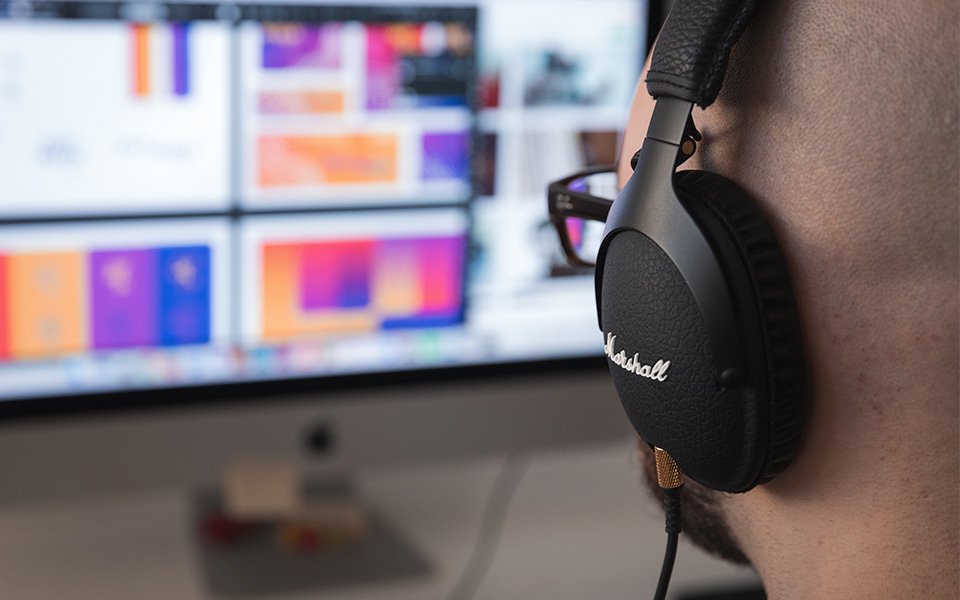 As you already know, there are thousands of YouTube stars making a decent income from monetizing their content. However, everything in their videos must be 100% owned by them or the channel, even the background music. If someone else owns the music in your video, they can claim your revenue (unless you have a license). Having total control over your content is crucial for your marketing and branding needs, regardless of size or reputation.
Let's talk about the royalty-free music terms you need for marketing videos.
---
| Table of contents
What Is the Goal of Your Video?
How Background Music Works
Who Is Your Target Audience?
Music License Terms for Brands
Corporate Music for Marketing
Who Actually Owns the Music?
---
What Is the Goal of Your Video?
"The goal of the video is, like, to make lots of money. Am I right?" — Of course, you're right! Video content is known for being the most effective marketing tool for achieving your money-making goals. In a matter of seconds, videos can help demonstrate what your brand represents and connect with your growing audience. Whether you're making money or not, you're still considered as a brand and your content is an asset. This is why Google and YouTube pay for commercial ads to be shown on user generated content.
If you use royalty free music that was listed as "free" for anyone to use, you must understand that the owner of the music will also own part of your video. Even if it is free, even if you give credit, YouTube and Google will not grant you the rights to monetize that video content. Avoid using free music for your own sake. Music licensing terms are subject to constant change and it can easily come back to bite you in the rear, especially if your video is a success.
For real now, what is the goal of your video? What message are you sending? Is it to gain visibility? Is it for an existing audience, or a new one? Define the goal of your video and this will set the tone for which music you should use. The music you use should enhance and highlight your video's message. Be sure to use different tones when expressing different messages, i.e. carefree, versus sincere, or happy, versus melancholic. These subtle details create a powerful, lasting impact that not only creates an experience, but also gives more life to your project. Use music that ignites emotion and feels valuable. Here are some popular categories for you to start with:
How Background Music Works
Here's the trick to using the right background music to evoke those emotes. Talking about promotional videos for brands, in most cases, you should keep the music in the background, low, subtle, and hardly detectable. There's no need to have volume so loud that your viewers need to listen closely in order to absorb the message. High volume music can cause stress and anxiety if you overload the brain's capacity to comfortably process it all. Just let the music gently linger in the background as a stealthy soundtrack. That's precisely what it was designed for. Let the other elements in the video shine.
Your best bet is going with something that's universally uplifting and adaptive to the audience. Corporate marketing videos tend to use more optimistic and relaxing vibes that trigger the emotions rather than our muscles. If your goal is to get your audience dancing, then perhaps you should consider making a Tik-Tok video or hiring influencers on YouTube – Again, remember your goal. Marketing videos are not generally made for dancing to, but may still transmit the right energy to motivate your audience and drive action. That's the goal. Try to avoid using cheesy and overused corporate music that you can find on all major stock music marketplaces.
The magic of background music is that it helps marketing videos feel legit and professional. How many TV commercials have you seen without any background music? Use background music to shine up your project, but don't overthink it. Try to avoid getting overly attached to any particular song. Some songs can be quite addictive, but usually come with a high license fee, even if it's royalty free. Generic and lighthearted music tends to convert much better since not everyone shares the same taste in catchy tunes. Check out some of the tracks here to get a better feel of engaging music soundtrack that works.
Who Is Your Target Audience?
Choosing music that your audience will enjoy can be tricky since we all have different tastes in music. Go with your intuition on that one, but here's another factor you should also keep in mind. Where does your target audience hang out online? Are they mostly on Facebook and Instagram, or are they more on YouTube and Twitter? Perhaps you have an older target audience who only watches TV – or the opposite; a younger audience that is mostly on Tik-Tok. Whatever the case may be, consider the various platforms you want to publish on in order to get your message in front of your target audience. Depending on where you want to publish, make sure you have all the right license terms.

This question is important because people usually only think about YouTube, but there's a heap of other great content sharing services out there worth tapping into. Not only that, but this will also help you know which music license you should obtain in order to monetize your video promotion. For example, publishing a video on social media is way more affordable than on television broadcast. However, if your audience doesn't use social media, then it's obviously worth the extra licensing fees in order to reach your audience. However, if your audience doesn't watch TV, then a standard online license should serve you well – find out where your audience is at and publish there.
Music License Terms for Brands
At Foximusic, we do our best to simplify the terms so that you save time and don't have to worry about the fine print, but it's not like that for everyone. Other stock music stores have very complicated and sticky terms that usually end up costing more than you bargained for. But of course, if you get over-attached to the music, you may have no choice but to pay more. This is why I suggest to avoid getting attached to any in particular song or track. We keep it simple. All our music is copyright-cleared, meaning you will never have to renew your license or fight copyright claims to keep your revenue.
Stock music stores usually limit the amount of views before making you pay for a bigger licensing fee – some will require a subscription or renewal fees after a certain time period and usually come with a limited amount of projects permitted.
With our standard music license, you can reuse your music over and over again without limitations. You bought your license, it's yours forever. Since there is no third-party music publisher or record label involved, there is no reason to pay a ridiculous amount of accumulated fees to keep your rights to monetize and keep your revenue.
Learn more about our easy-to-understand royalty free music licensing terms.
Corporate Royalty Free Music for Marketing
Video marketing helps your brand deliver a powerful message in seconds flat. Most likely, you're not going to be using any mainstream radio hits and you shouldn't want to. You want the music to remain in the background and to simply enhance all the other elements of the video. Using upbeat music with a positive message is a recipe for success. Use music soundtrack that's neutral when delivering a sincere message such as in employee training videos and the sort. You can control the vibe of your video and how people will feel after watching it. Don't forget the goal. Deliver your message and keep it light.
Who Actually Owns the Music?
We need to address a very common issue here, that once you go and buy a license from a stock music marketplace, you can never be sure that the music composer or music rights holder won't change his copyright terms at any moment, without the buyer having a clue! So eventually he could lose his monetization revenue. Not only that but who knows if their music is totally original? You can never be sure if the music submitted for resale on stock music marketplaces is clean. Don't risk unknowingly infringing on copyright laws due to copycat freelance musicians. One bad track can ruin an entire project and end up costing an arm and leg.
You work hard and the last thing you need is a lawsuit over some random music track, am I right? Your brand deserves legit music that lets you monetize. It's a wonderful feeling when you own all your work and nobody can take it away. We've all been there and we know it can be confusing. That is exactly why Foximusic was founded, to make royalty-free music licensing a lot simpler to understand and obtain. We provide affordable music licensing with flexible terms that people actually need. If you have any questions about our license terms and pricing, please feel free to visit our FAQ or contact us directly. Happy branding!